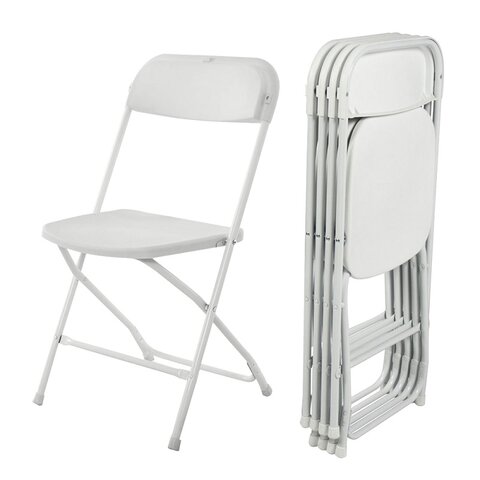 WHITE FOLDING CHAIRS




Available Booking Options

| | |
| --- | --- |
| 6 Hours | $3.50 |
| Overnight | $103.50 |
| 3 Days | $353.50 |
| Weekend | $353.50 |



WHITE FOLDING CHAIRS*
(NOT WEDDING QUALITY)
If you're looking for a practical seating solution for your next outdoor event or party, our white folding chairs are an excellent choice. While they may not be considered "wedding quality," they are still sturdy and reliable, having been well-loved and maintained over time.
These chairs are easy to transport and set up, making them a convenient option for any occasion. They can be easily stored away when not in use, freeing up valuable space in your home or storage area.
Despite their affordable price point, our white folding chairs are still a great option for those who want to create a stylish and comfortable seating area for their guests. With a little creativity and some decorative touches, you can easily transform these chairs into a chic and inviting seating area that your guests will love.
Overall, our white folding chairs are a practical and budget-friendly option that will help you create a memorable event without breaking the bank.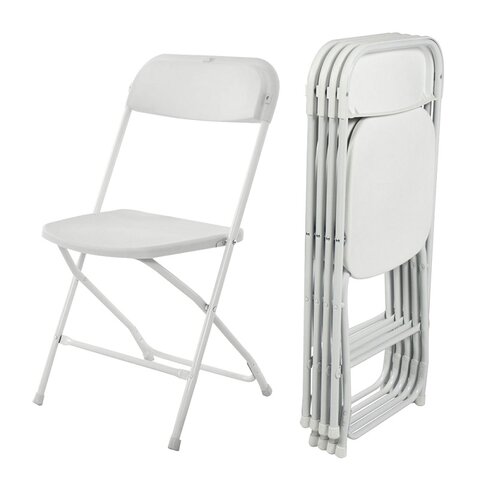 * Chairs and tables will be dropped off in the front yard and picked up in the front yard. If chairs and tables are not staked in front yard a additional fee of $1 per chair and $3 per table will be added, so please restack your tables and chairs or purchase our set up and take down options.
For $.50 per chair and $2 per table we will be happy to set them up for you.
For $.50 per chair and $2 per table we will pick them up and stack them.